You know what? This episode made me realize how much of a fucking SLORE Ray J really is!!!(Slore=Slut/Whore combo for the slow ppl LOL) I know I said I probably would develop a crush on his azz during the course of this show but ummmm....that shit is fading FAST...in fact I think I'm back to hating his bitch voiced azz guts...
Anyway lets jump right in.......
So as usual Ray J's sidekick the one & only "Lil B" (rolls eyes) helped introduce the ladies to this weeks "challenge"...Where each girl would spend 30 minutes of one on one time with Ray J displaying their individual talents and things they were passionate about so he could get a feel of their personalities...and the one who impressed him the most wins the solo date with him...
So the chics get to brainstorming their ideas and each of them come up with a game plan. Some of them were just DULL so I'm gonna point out the ones that stood out to me...
Cocktail...she propositioned the little dummy with a fake ass game of "love & basketball"...but of course there was a twist....it was shoot & strip basketball...whoever scored a goal the opponent would have to take off a piece of their clothing....annnnnd of course we all know who ended up half nakie....
Feisty...I don't know what it is about her but she's my fave out of the bunch right now...Sure she's a groupie but aren't they all? lol...Anyway...girly said she didn't have any talents and all she knew how to do was drink & exercise....uhhhh...okay?!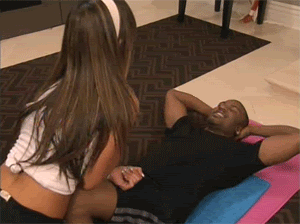 So she setup a little workout session and did what she does best....TEASE....we all know Ray J's a freak so DUH...the little perv LOVED it....and I cracked up when Feisty said her best physical features are her boobs & her smile..lmfao...in her words "money well spent"....
Danger...so we all know she's the "artist" & the "creative" one of the bunch. Lets see she has a Tiger inked on her face...umm yeah that's definitely unique.... ***blank stare*** oh yeah annnnd she has a fucking art palette tatted on her neck...lmfao...that shits dumber than the crap on her face. Anyway...she came up with this bright idea to play a game of the blindfolded artist...and Ray J helped her sling some paint on a canvas....
Behold the masterpiece...

LMFAO!!! Their whole escapade was pointless...all the art she's done on this show ALWAYS looks like she did it with her eyes closed and this trash just proves my point....
Unique....LAWD have mercy...this chic STAYS tryna sing... according to her she has a "passion" for music...and despite the last 2-3 FAILED attempts the chic tried it AGAIN! This time they BOTH murdered me with their little fake ass duet...but for some reason RayJ was feeling it this go round so whatever...
Meanwhile....
Cashmere was back @ the house getting confirmation from her girl Stacks on her initial assumptions that Cocktail was indeed on another reality show. So her, Unique & Feisty came up with a game plan to confront her ass about it later...
Ray J decided he needed more time with all the girls before he chose his solo date. So he took them all out to dinner. So during dinner they all played a game of "Inever" where someone @ the table would ask a question and if whatever they asked applied to them they'd have to take a drink...So of course Feisty, Cashmere & Unique found this to be the perfect opportune moment to bring up Cocktails secret...Feisty went in & posed the statement...
"I Never been on another reality TV show"
and NONE of the girls took a drink....so Cashmere called Cocktails ass out about it...


Apparently Ms. Cocktail had been on "The Bad Girls" club and was a self proclaimed gold digger who'd do anything to not have to work...the three girls teamed up on her & asked why she lied & didn't take a drink when they asked the question...
Cocktail was livid!

She defended herself by saying "because I don't care to share that with any of you GIRLSES...it's none of your GUYSES business"...LMFAO...WHAT?! I couldn't even concentrate yall after this bitch said YOUR GIRLSES & YOUR GUYSES!!!! WTF does that shit mean??? hahaha!! I'm just gonna have to auto assume that a high school diploma was NOT a requirement for the show...LOL
But nonetheless Ray J was quite entertained by the foolishness and was impressed that Cashmere stepped up and went @ ole girl...which baffles me b/c I don't get why a SNITCH impresses the simple nigg@...Well finally he made the decision to take Unique & Feisty out on the solo date because they were the two who impressed him the most. And being the "gentlemen" that he is he didn't want the remaining chics to feel left out so he told them they would be going to lunch with ***drum roll please***.... Lil' B....
oh the joy (sarcasm)

All I can say is karma's a bitch....I think Cashmere bit off way more than she could chew because naturally Danger, Cocktail & Chardonnay used this outing to double team her ass...and I don't blame them...bottom line is if you dish it out please be prepared to take it when the tables are turned...
poor girl didn't know what the hell to do or say...she just let the chics attack her & backed down...SMH...what a wimp...I guess none of Uniques girls are as bold when she's not around...which leaves me to have to cosign with Danger...Cashmere is just a tag along and couldn't think for herself...
Alright....so to me Feisty & Uniques poolside date with Ray J was quite DULL...well until of course Unique tried to convince Ray J that Feisty was indeed a party girl...
Which left Feisty feeling all confuzzled @ the poolside because she was under the assumption that Unique was her "friend"...LOL...MAN UP!!! none of these whores are your friends Feisty okay?! LOL....
Finally it's elimination time & this time Ray J wants to switch it up a little bit.

So he asks all the girls to leave the room then called each one back in individually...The two final girls that hadn't been called yet were Cocktail & Cashmere....which left them both a little nervy because of what happened earlier...
But to her surprise, Cocktail was still offered a glass of champagne to remain in the house. According to Ray J he doesn't judge people off of there past which is why he wanted her to stay....you know what? He's a fuckin' LIAR!!! Correct me if I'm wrong but didn't his ass get rid of a girl from the jump for wanting to be an actress? THEN got rid of another for being married...at least those chics didn't blatantly LIE about their intents like Cocktail did...LOL...shit sounds a little contradicting to me but whatever....
So there was one glass of champagne left & he called Cashmere in & told her it's hers only if she wants it...Basically if she wanted to be there she could stay and if she didn't she could bounce...Then this chic gets all emotional AGAIN and starts crying AGAIN!!! She's all torn & doesn't know what she wants to do...So Ray J once again being the "gentleman"that he is pulled her close & consoled her while she sorted out her feelings....and by consoling her I mean he grabbed her booty...haha!!! I know I'm not the only one who caught that? What a perv he is...SMH!
Well she finally made her decision....

and decided to bounce....she felt like she wasn't strong enough for the competition & the cat fighting so she threw up the deuces...What's funny to me is that during the course of this show he had like what3-4 chics to eliminate themselves?
This episode was slightly boring to me...what did yall think?